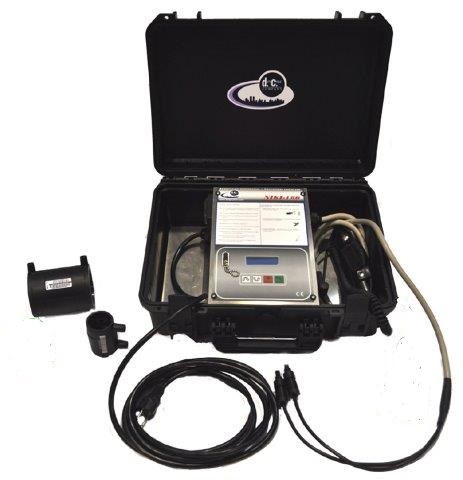 Manual polyvalent electrofusion welding unit.230V input power supply.Working range 20÷200 mm. According to ISO 12176/2 Norms.USB port.

TECHNICAL SPECIFICATION

Single-phase power supply
230 V 50/60 Hz
Output voltage
8 ÷ 48 V
Max output current
65 Amp.
60% duty cycle output
27 Amp.
Max input power
2,6 kVA
Working range
20 ÷ 160 mm (180/200 mm in case of emergency)
Working temperature range
-10°C - +45°C
Operating modes
Manual
Manual mode
Time / Voltage
Internal memory
300 report
USB port

Yes

Protection degree
IP 54
Dimensions/Weight
464 x 366 x 176 / 10,5 Kg

Transport case
Briefcase

ACCESSORIES

Standard equipment
Push system 4 and 4,7 mm terminal connectors

On request
See .pdf datasheet attached


SUITABLE FOR:
PE PRESSURE FITTINGS <48 V FOR GAS-WATER MAX Ø 160 mm
Elofit, Durafuse, Eurostandard, Strengweld, Riesselman, Manibs, Fusion,Wavin/Monoline, Friatec, Plastitalia, George Fischer, Central Plastic, Hydroblock, Uponor, Degaz, Pls,Technima, Innogaz, S&L, Girpi, Agru, Tega,Wanquan,Firat.

PE DRAINAGE FITTINGS <48 V MAX Ø 160 mm
Frialen/Friafit, Strengweld, Plastitalia, Elofit.

PP-R FITTINGS FOR SANITARY WATER <48 V Ø MAX 160 mm
Coprax, Acquatechnik, Niron, Polysistem, Banninger, George Fischer,Aquatherm.
230V 50/60 Hz (195 ÷ 275V) input power supply




Manual input of Time/Voltage parameters




Working range 20 ÷ 160 mm




300 welding reports memory capacity




Short circuit dynamic monitoring process on the wire fitting current




Suitable to be supplyed with generating sets




Stainless steel bodywork




Short circuit dynamic monitoring process on the wire fitting