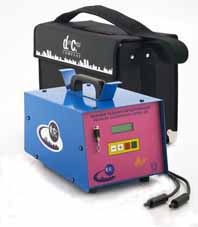 Manual polyvalent electrofusion welding unit.230V input power supply.Working range 20÷800 mm. According to ISO 12176/2 Norm.
TECHNICAL SPECIFICATION

Single-phase power supply
230 V 50/60 Hz
Output voltage
8 ÷ 48 V
Max output current
120 Amp.
60% duty cycle output
80 Amp.
Max input power
4.8 kVA
Working range
20 ÷ 800 mm
Working temperature range
-10°C - +45°C
Operating modes
Manual
Manual mode
Time / Voltage
Internal memory
300 report
Printer/PC connection
Serial
Protection degree
IP 54
Dimensions/Weight
285 x 290 x 295 mm / 20,5 Kg
Transport case
Trevira carrying bag
ACCESSORIES

Standard equipment
4 and 4,7 mm terminal connectors and carrying bag
On request
See .pdf datasheet attached


SUITABLE FOR:
PE PRESSURE FITTINGS <48 V FOR GAS-WATER MAX Ø 800 mm
Elofit, Durafuse, Eurostandard, Strengweld, Riesselman, Manibs, Fusion,Wavin/Monoline, Friatec, Plastitalia, George Fischer, Central Plastic, Unidelta, Uponor, Degaz, Pls,Technima, Innogaz, S&L, Girpi, Agru, Tega,Wanquan,Firat.

PE DRAINAGE FITTINGS <48 V MAX Ø 800 mm
Frialen/Friafit, Strengweld, Plastitalia, Elofit.

PP-R FITTINGS FOR SANITARY WATER <48 V Ø MAX 400 mm
Coprax, Acquatechnik, Niron, Polysistem, Banninger, George Fischer,Aquatherm.
230V 50/60 Hz (185 ÷ 275V) input power supply
Manual input of Time/Voltage parameters
Working range 20 ÷ 800 mm
300 welding reports memory capacity
Short circuit dynamic monitoring process on the wire fitting
Suitable to be supplyed with generating sets
Improved performance allows use with larger fitting